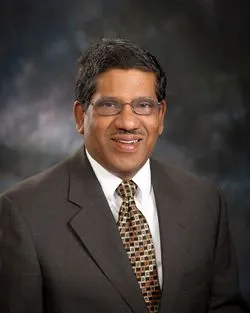 Jay Prakash, M.D., FACG
Dr.Jay Prakash is the gastroenterologist who started this practice in July 1984 at Riverdale with an office in Stockbridge. He had his medical education at Stanley Medical college, Chennai, India. He completed M.B.B.S and M.D. degrees with Honors and moved to U.S. in 1976. He completed residency in Internal Medicine in Bronx, N.Y. in 1976-1979. He practiced Internal Medicine from 1979-1982. He did fellowship in Gastroenterology in University of Louisville school of Medicine, Louisville, KY, in 1982-84.
He introduced for the first time most of the therapeutic procedures like Endoscopic Gastrostomy, Endoscopic Sphincterotomy with stent placement and stone extraction, Sclerotherapy etc into the Southern Atlanta area in 1984. He served as chief of Medicine at Southern Regional Medical Center and Henry Medical Center. He also served as chief of staff at Southern Regional Medical Center and Henry Medical Center, in addition to various other leadership positions including Chairman of quality assurance committees and credentials committee etc.
He had served as hospital board member at Southern Regional Health System and Promina Health system for many years.
He held academic appointments at Morehouse School of Medicine and Mercer University school of Medicine. He presently serves as Associate Clinical Professor of Medicine at Mercer University School of Medicine. He started the accredited continuing medical education program for physicians at Henry Medical Center and served as chairman for more than ten years. He has expertise in Informational Technology. He enjoys travelling all over the world, cooking, deep sea fishing, photography and making movies. He is married and has two sons.